Support For 1088 Green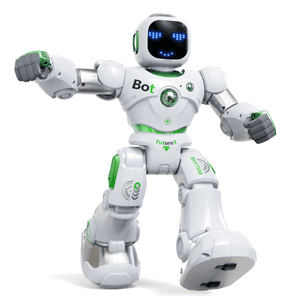 FAQ
Operate
Charge
Media
APP
Robot
Remote Controller
Operate
What are the control methods of the robot?

Remote control, APP, voice

Where is the robot suitable for walking?

walking on level ground

Can the voice of the robot be adjusted?

The robot has 5 sound levels for adjustment

Which voices can be used to control the robot?

Use the fixed voice command control on the instruction manual

Will the robot automatically sleep if it is not used for a long time, and how to wake it up?

It will automatically enter the sleep mode, you can press the chest reset button to wake it up

During APP control, do I need to reconnect after shutting down or restarting after hibernation?

Need to reconnect device
Charge
Does the robot support battery replacement?

No, it is a built-in battery

What is the charging power requirement of the robot and how long is the charging time?

Support 5V=1.5A-2A charging head, charging time is about 3 hours

What is the charging status of the robot?

The red light will be on during charging, and the light will be off when full

How long will the robot be used?

Approximately 1.5 hours of continuous use
Media
Can the built-in songs of the robot be changed?

Can't support replacement.

How many songs and dance music are built into the robot?

Built-in 10 songs and 5 dance music.

How many stories are built into the robot?

Built-in 8 stories.

Does the robot have special sound effects?

Yes,there are gymnastics, programming, touch and other sound effects

How to use the Bluetooth speaker of the robot?

Find it in the Bluetooth bar of the mobile phone; after the JT-Speaker is paired, the robot can be used as a speaker
APP
Where can I download the robot app?

Scan the QR code on the manual to download, or search in the mobile app store; "Carle" to download.

What signal is used to connect between the APP and the robot?

APP connects and controls the robot through the robot's Bluetooth signal.

How far can the APP control?

About 5 meters without interference.

What is the difference between APP control and remote control?

APP control programmable facial expressions and continuous actions in programming, gravity induction control robots, etc.

How does the APP connect to the robot?

Turn on the Bluetooth of the robot and mobile phone, open the APP, click connect, and select the device to connect to enter the operation.
Robot
Does the robot have a touch sensing function, and where is the touch area?

Yes, on the top of the head, there will be 5 sound effects if you touch it

How many motors does the robot have?

There are total 9 motors, which can help the robot complete more actions

Does the robot have a recording function?

Yes, press and hold the small button on the chest to record, let go after recording, press it again to play the recording

How does the robot walk?

The robot walks through 4 wheels on the soles of the feet, with walking mode and sliding mode

Does the robot have lights?

There are emoji lights on the robot's face, and there are also lights on the ears

What does the big buttons on the robot's chest used for?

The button can wake the robot up from sleep mode, also can use it to interrupt the robot actions

Can the robot hold things in hands?

The robot can just hold a very light weight things in the hands

Can the robot's waist move?

Yes, the robot's waist is flexiable, can swing left and right

Does the robot have a voice control function?

Yes, you can control it via voice through some certain sentences
Remote Controller
What type of remote control signal does the robot use?

It use 2.4G remote control

What is the remote control distance?

Straight line without obstruction distance is 5 meters

What should I pay attention to when using the infrared remote control?

When remotely controlling the robot, the remote control should face the robot and avoid using it under strong light.

What kind of battery does the remote control use?

Use 2 AA batteries, need to prepare by yourself.

Does the remote control have a switch?

There is a switch on the back of the remote control.

Does the remote control have an indicator light?

The red indicator light will light up when you press the button.
Apps Download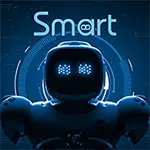 Carle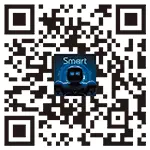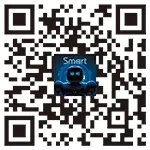 Ticket